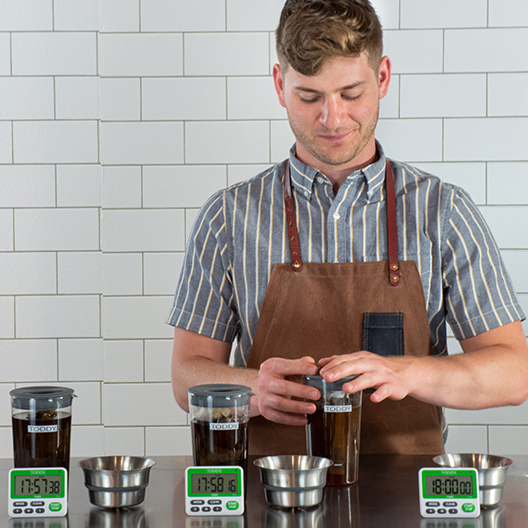 All sessions will take place Thursday, July 29. Courses are FREE to attend; register now to reserve your space.

Cold Brew 101
Expand on your basic knowledge of cold brew. Become familiar with the fundamental differences between coffee brewed with heat vs. coffee brewed with time and gain an overview of how brewing parameters impact the finished product.
Cold Brew 101 Q&A
Get answers to your burning questions about Toddy cold brew solutions during this live Q&A.
Building a Cold Brew Program
Find out why cold brew is such a popular - and versatile - cafe offering. Get expert tips designed to help you make the leap from thinking about a cold brew program to profiting from one.
Building a Cold Brew Program Q&A
Learn more about how you can get the biggest return from your cold brew business investment during this live Q&A.
THE BARN Coffee Showcase
Discover the varied specialty coffee offerings from THE BARN, a leading coffee roaster in Europe.
Cold Brew Cupping: What & Why?
Get the origin story behind cold brew cupping, discover important differences between traditional and cold brew cupping, and explore basic sensory analysis.
Cold Brew Cupping Q&A
During this live Q&A, hear insider tips and techniques to help you structure and perform effective cold brew cuppings.
Nitro & Kegging Overview
Learn about one of cold brew's most popular applications in this overview of brewing and kegging techniques for one of cold brew's trendiest beverages.
Cold Brew Cocktails / Happy Hour
Eager to apply your cold brew skills to some fun creative beverages? Join us for Toddy's Happiest Hour and some cold brew trivia.